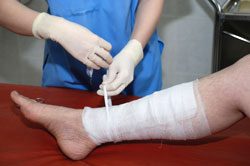 Chronic Wounds for the Correctional Nurse
In the correctional environment, depending upon the population and the type of facility (jail or prison), the wounds typically seen could be acute or chronic, but all require nursing assessment, treatment and monitoring.  As follow-up to our Wound Care for the Correctional Nurse class, we will take a more in-depth approach to review chronic wounds typically seen in both the correctional and community setting. These include pressure ulcers, arterial insufficiency ulcers, venous insufficiency ulcers, and neuropathic ulcers.  We will discuss the etiology and symptoms of the wound, common risk factors, mechanism of injury, characteristics of the wound, common diagnostics for the wound, interventions, and education for the patient with the chronic wound.  We will first review the stages of wound healing.
Login
Accessing this course requires a login, please enter your credentials below!